Category Archives:
Open Studios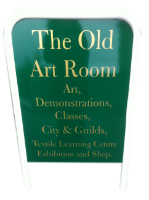 *Great News* The Old Art Room Has Moved to Swaffham
I will still be teaching out in the community as usual at certain times but this will be a permanent space to work, share, exhibit and enjoy. Lots of exciting events planned!
'The Art Room' is an Art Academy, so a mixture of leisure and certificated courses and workshop sessions available for all ages.
The doors open Monday 3rd of June and 'Textile Tuesdays start on the 4th! Very exciting.
I start off the Textile Tuesday and Thursday this month with 'Bags' as they are as popular as ever.
Evening class on the 5th of June. 7pm until 9pm.
The second week is all about Embellishing, using the felting machines and 'Bling' you can sew on as Embellishments. There are four machines to share and lots of wonderful bits to experiment with.
There are two sessions to each Textile day as usual 10am until 12.15 and 12.30 until 2.45. The cost is £9 per session and includes a cup of tea and a biscuit. You bring your own ingredients/ project, enjoy the inspiration and there is supplies to purchase if you wish. There is also a very large scrap bag, well in my case a large aluminium box on wheels! To delve into to enhance your project or start a new one! Someone elses scrap bag is always more interesting somehow?
Lots to see and do each day so a visit is a must or if you are too far away visit regularly online to enjoy the atmosphere.
Monday afternoon from 2.30 until 5pm you can come along with your own project and enjoy working in a textile studio while I am working on my textile projects, mine are inspired by our Art Room visit to Kew Gardens and also Recycled Textiles and Stitch. I am there for tips and guidance only.
Starting at the end of the month June and continuing throughout the summer 'Friday in Print' a way of exploring all different ways of printing and transposing designs. Also on request sketchbooks and book making.
Two sessions 10 until 12.15 and 12.30 until 2.45 and the cost is £10
Monday and Wednesdays I am still teaching City and Guilds and final projects and Design files are looking amazing.
We would like to thank the Benjamin Foundation and Cancer Care Moving on Project Dereham for their support in allowing us to teach and share their spaces since November 2012. It has really been appreciated and we have had a fantastic time.
The signs went up today outside the cottage to advertise Norfolk Open Studios. I will be open from the 26th May until the 10th of June, 10.30 until 5pm daily. The studio is looking very colourful and there is lots of mixed media art on show.
I will demonstrating different techniques everyday.
The event is free and everyone is welcome.
Photographs of my studio and daily art making click HERE
See all the Artists participating in the event at www.nnfestival.org.uk/openstudios
We look forward to seeing you virtually or in person.