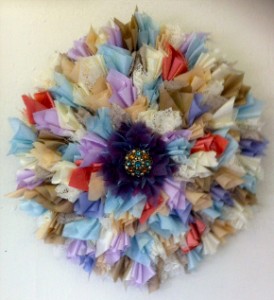 Vintage Lace Pocket Wall Hanger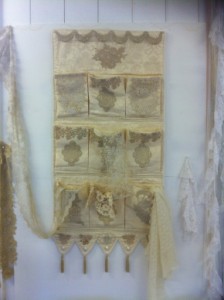 February Inspiration in The Art Old Room is 'Vintage, Lace and Recycle'.
The Art Piece above was made from a polystyrene Lace Pillow and recycled lining fabric and diamante brooch. It has made a great display in the studio and encouraged lots of Shabby Chic Flowers and sorting out of jewellery boxes.
See more displays HERE 
See The Old Art Room dressed 'Vintage' HERE
The Vintage Lace Pockets was inspired by a show wall tidy. A friend needed one to help keep her chair area tidy and the plastic one she had was looking well used and the pockets were starting to come away. I decided to make a fabric version and this is mine with lots of Vintage Lace and I made one for her and used her family lace too! We had great fun sorting out such beautiful old lace and using it on a practical but beautiful item to look at.
See more of my Vintage Lace Artworks HERE
See what is being created in The Old Art Room by students HERE
See my creations in my home studio HERE