See website HERE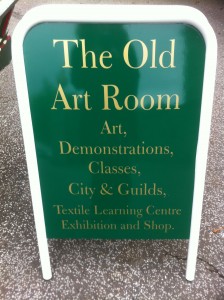 The Old Art Room is at
93 Market Place
Swaffham
Norfolk
PE37 7AQ
The Old Art Room
Walk in to the quaint studio set in the heart of Swaffham and be prepared to be inspired by a myriad of innovative artworks. From quilts to book-folding, everything you need is at The Old Art Room.
The studio is split between a shop area and the main studio. In the studio you can find inspiration and helpful guidance, whereas in the shop you can find all of the materials you need to make your vision come to life. By using both you can let your inner artist run wild.
The Art Room is open to the public to browse and be inspired.
Visit The Old Art Room Blog HERE
Join us on Facebook too!
Come along and take part in the varied Art Sessions available.
The sessions are suitable for beginners and experienced alike. Bring along your own sewing kit or art materials, project or idea and be inspired by the sessions inspiration.
Each month there is a leaflet detailing the various sessions and Inspiration. See the years inspiration HERE
Monday
Mixed Media Art, Painting in the morning and in the afternoon Watercolour Painting.
Tuesday and Thursday
Mixed Media Textiles from traditional to contemporary stitch and gifts.
Wednesday
Starting in the again in the New Year City and Guilds Creative Textiles Level One,Two, Three and Diploma.
Adrienne has a hand Patchwork and Quilting Class in the afternoon.
Friday
In the morning, you can experience all different ways of Printing including Collagraphs, Lino, Mono and Screen Printing.
Morning Print, Papercraft and Book-folding
2nd Saturday
Book-folding and Origami Techniques
Over 12's sewing club
For over 12's wanting to learn sewing, book a session now and join in the fun.
Children's Club
The first Saturday of the month starting in March 2014. 10 until 12.30, cost £10 and includes fun, snack and a drink.
See my Blogs for Students work and what goes on HERE
More classes talks and workshops on request.