I investigated how we interact with animals and how this relationship changes when we sit behind the wheel of our vechiles.
Here are the artworks exploring this and the work within an exhibition.
This wallhanging contains 1940's and 50's pastel embroideries of animals and my photographs of animals who had been hit by vehicles.I travelled along an 8 mile country road near where I live documenting the roadkill with statistics and photographs. It was a very difficult journey to do, physically and mentally. This I highlighted within my work alongside the human tragedies of road accidents.
Screen-Printed Rabbits on a Wallhanging
As you can see by the exhibition space called 'Oriel 9', it is an unusal and challenging space to exhibit in but I had alot of feed back and several pieces went into other galleries due to this exhibition. An artist needs to exhibit in various spaces to evaluate how a piece of work can be adapted to a location making it almost a site specific artwork.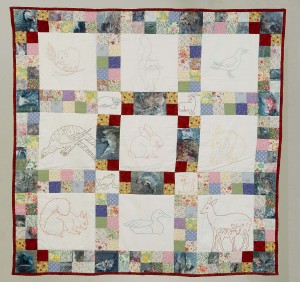 The Roadkill wallhanging has also been exhibited at Greyfriars Art Gallery in Kings Lynn.
You can also view my 'Collage a Day" which I was making alongside the RoadKIll Exhibition
by Clicking HERE
Visit www.janeclarkarts.com for another exhibition of minebased on marine biology and contemporary mixed media.