I have a paper and sketchbooks near me most of the time, I stick everything concievable in them so technically they are scrapbooks!
I use an A4 sketchbook, a small sketchbook for travelling around and a small hard-backed  notebook for my handbag, to jot down important stuff especially dates,websites and to-do things. I also make loose leaf pages which I put together at a later date into textured books.
Here are some examples of what's is in mine,
This one is based on things that frighten and how phobias are overcome.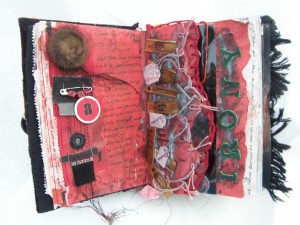 As you can see I like to put anything into my sketchbooks and on them. I like to add individual clasps to shut the bulging books and keep everything in!
View more of my sketchbooks by clicking on the following titles:
View more card and sketch book designs at: