This work is using vintage and recyled fabrics ,papers and trimmings.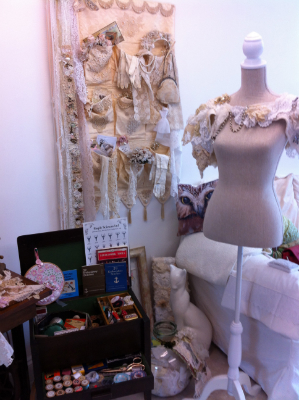 Vintage Photography captured by Ellen.
This piece is inspired by memories of my Grandmother who's name was Rose and my daughter, who's middle name is Rose. Sadly my Grandmother never got to see Jennifer Rose but I am sure she would have been very proud!
I loved using Jennifer's little dresses and collecctions of vintage jewellry and buttons from Grandmother's Button Box.
She grew honesty in her garden and my Mum does too. She was a fantastic quilter, needlewomen and dried, flowers. Her garden had many varities of Roses. Happy Memories.
See displays and 'Wreath of the Month  at Te Old Art Room HERE
See how this Journal was made in detail by clicking HERE
This Lace Folder is made from covered canvas using vintage and contemporary lace. It was then dyed and embroidered.
Inside it has buttoned pockets to hold keepsakes.
If you would like to see how this was made and picture details clickHERE
Inside the Studio
Vintage Lace and Shabby Chic Display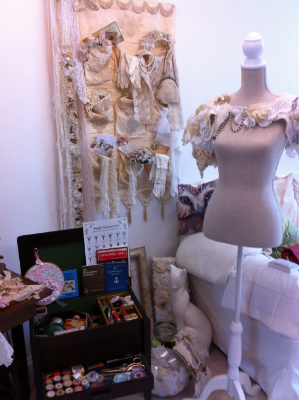 Envelopes
These envelopes were designed with a lady from 'Pide and Predjudice' in mind.
They would keep all their notes, calling cards and secrets in them.
Vintage Lace Keepsake
Every Christmas I make The Coven Girls a keepsake.
They may all be the same item but they are all slightly different.
This year I made them all A Vintage Lace Keepsake,
filled with Norfolk Lavender from my garden.
Folded Lace Purse
See the post behind this folded purse HERE
See the video that inspired me to make the Lace Purses
These Lace Cornucopias were made to inspire students for using lace for Christmas projects.
"Behind The Veil"
A Contemporary Lace Artwork
Mixed Media textile Wall Hanging with stamp printing.
Sewing Collection
This collection of sewing items is on my studio wall.
I am often being given antique sewing articles which I just love
and put them on this spool holder, making their own style of picture.
There are items from my childhood and Grandmother's sewing box.