My art practice is diverse in its production.
I start with a core idea or inspiration  maybe from a picture, photograph, item, visit or experience. Many ideas are fuelled by students who wish to learn techniques or make particular projects.
This is how I developed the sunflower wallhangings.
I drew several studies of the sunflowers growing in my garden and then chose one to develop into piecse of work.
Now I dye fabrics and collect together threads and images to refer to. Sketchbooks become bulging as I collect anything that refers to the idea.
I lay gauzes and films over the top of my drawings to see what complimentry colour work and also ones I wouldn't normally use. Trial and error.
Detailed observation of your subject is vital before you can develop your own interpretation of your ideas.
I make a screen and use a piece of paper to see how the print will come out then I screen print many different pieces of dyed fabrics. I practice designs.
These designs are then developed into the wallhangings and teaching, demonstration pieces.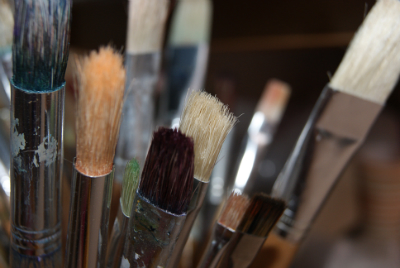 Embellishing
I like using many different medias and techniques.
I developed ideas around purple and lilacs, using my photos and have continued to develop the colour into other projects.
Then a fun morning dying fabrics and threads.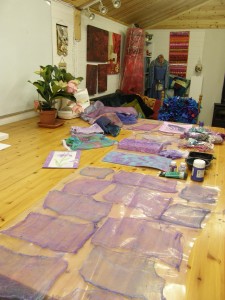 Some embellishment using the threads and fabrics.
These were then made into a book cover, cards and bookmarks.I made a sketcbook cover,bookmarks and ATC's for friends out of the 'purple' fabrics made.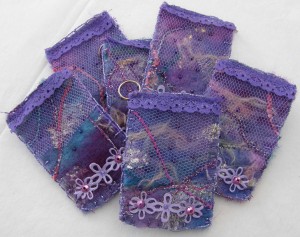 Click these titles to see my other work,